Economic and financial impact of the price minimum subsistence of bananas in exporters of Ecuador
Keywords:
economic impact, bananas, ecuadorian exporters, minimum price
Abstract
The banana exporters represent a fundamental sector for the economic progress of Ecuador; and, this research studies and verifies the relationship between the minimum support price of the Ecuadorian internal market and the international CIF price of the international banana market; and it also shows the problem of determining prices in Ecuador that stands in the way of the regulation of prices determined as a result of the relationship between supply and demand for fruit worldwide. The analysis that was handled is of a quantitative methodology with an explanatory and correlational longitudinal non-experimental design where information was taken from the exports of 5 years of a sample of 168 exporters from Ecuador who in 2020 reported their financial information to the Superintendence of Companies, Securities and Insurance and their exports in the National Customs Service of Ecuador and those that are part of the Association of Banana Exporters of Ecuador. To compare these sets, normality tests were performed for independent samples; and, for the presented results we used Sperman's non-parametric correlation coefficient hypothesis tests, in order to determine that there is no correlation between the minimum support price and the international price. This study also tries to be a contribution to the improvement of lines of work that assist the preparation and delineation of policies that help the stability and performance of exporters, as well as opening new topics that influence the country's agricultural sector to discussion.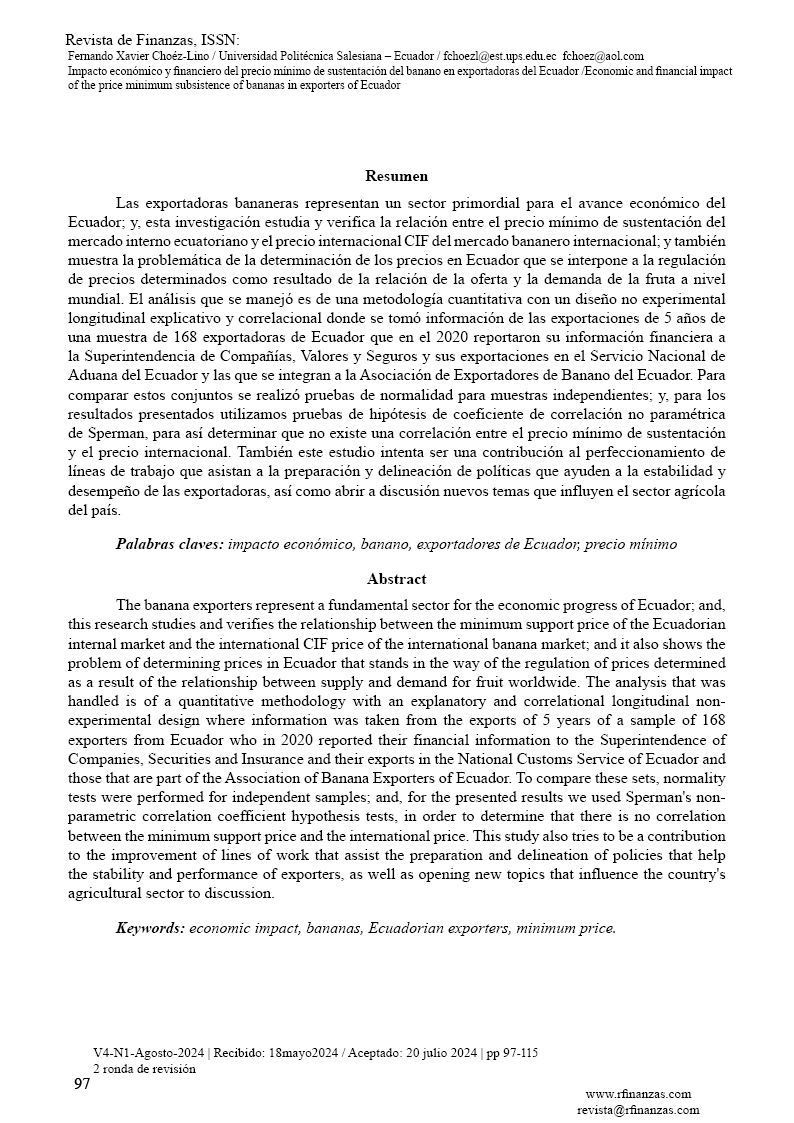 Downloads